Launched last week, the new marketing campaign "Experience Philippines" has already been cancelled following viral reaction of netizens, accusing the campaign to just be a copy of a previous campaign for South Africa Tourism.
Presented with much fanfare a couple of days ago by Philippines Department of Tourism, the new campaign "Experience Philippines" showed a Japanese blind retired man experiencing the Philippines through senses and strong friendship with locals. An emotional clip which, in return, generated immediately emotions from viewers on internet.
However those emotions were of a different nature: netizens watching the video were quick to point out troubling similarities with another campaign, done however in 2014 for South Africa Tourism. The latter was also showing a blind person experiencing South Africa through senses.
Informed by the similarities with its own promotion, the DOT admitted that they had evidence of "copycat" work in the video produced by international advertising agency McCann, and the one released for South Africa in 2014.
The DOT decided to act swiftly. The campaign has been immediately cancelled on Friday with Frederick Alegre, Tourism Assistant Secretary, declaring that Tourism State Secretary Wanda Teo Corrazon was asking for a public apology as she was also exploring all legal remedies against the team of McCann. All contracts with McCann have been revoked as highlighted in an official announcement from the Department on its own website (see the official statement in the picture). McCann officially deplored the end of its contract, citing that there has been no copycat work done.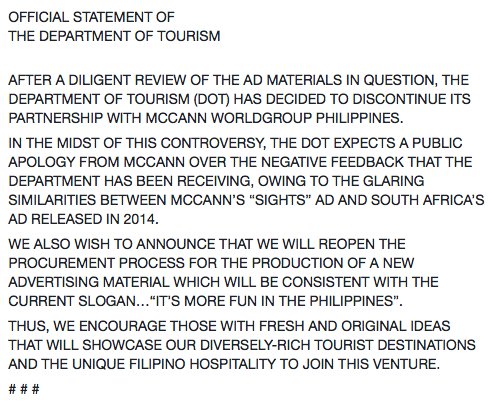 "We have the interests of the people that we have to protect. Secretary Wanda Teo has the duty to protect the interests of the department and the Filipino people. That is why this is the direction we have decided to take," explains Alegre.
The department is now accepting new bidders for a new and original ad campaign. A new clause in the contract will now specify that material and ideas will first be pre-submitted to the DOT to allow research on eventual references to previous productions in a bid to avoid copycat work.
The DOT then is looking to produce the remaining videos under the concept of "It's More Fun in the Philippines" campaign." Actually, it is effectively "more fun" with netizens already posting new but unofficial video creations around Philippines tourism popular tagline!