USA former President Barack Obama has been visiting Indonesia for ten days, landing on June 23 in Bali. Mr. Obama is travelling with his wife and daughters for a family holiday but have been welcomed by authorities all along their trip. No journalists have been allowed to cover the vacation of the former United States presidential family.
They reportedly visited several tourist attractions during their Bali holiday so far. One of their first stops included the Agung Rai Museum of Art in Ubud where they discovers local artists works.
The next day, the Obamas reportedly went to Jatiluwih village in Tabanan,. Known for its breathtaking views of rice terraces, the area is located around 54 kilometers from Denpasar, the island capital, and is included in UNESCO's list of World Heritage Sites. They also paid a visit to local farmers.
The following day, the family enjoyed kayaking on the Ayung River in Badung Regency. Ayung River rafting lies in the western part of Ubud and the eastern part of Canangsari village, an easy 1h30 drive from Kuta.
Obama, a "brand" for Indonesia Tourism
The Jakarta Post reported that authorities are feeling not only proud but more than delighted by the presence of the former President as it is seen as a valuable asset to promote Indonesia's tourism. Bali governor Made Mangku Pastika declared to reporters that "Indonesia is a beautiful and safe country. Barack Obama's visit is Bali's tourism victory in the international stage," he stressed.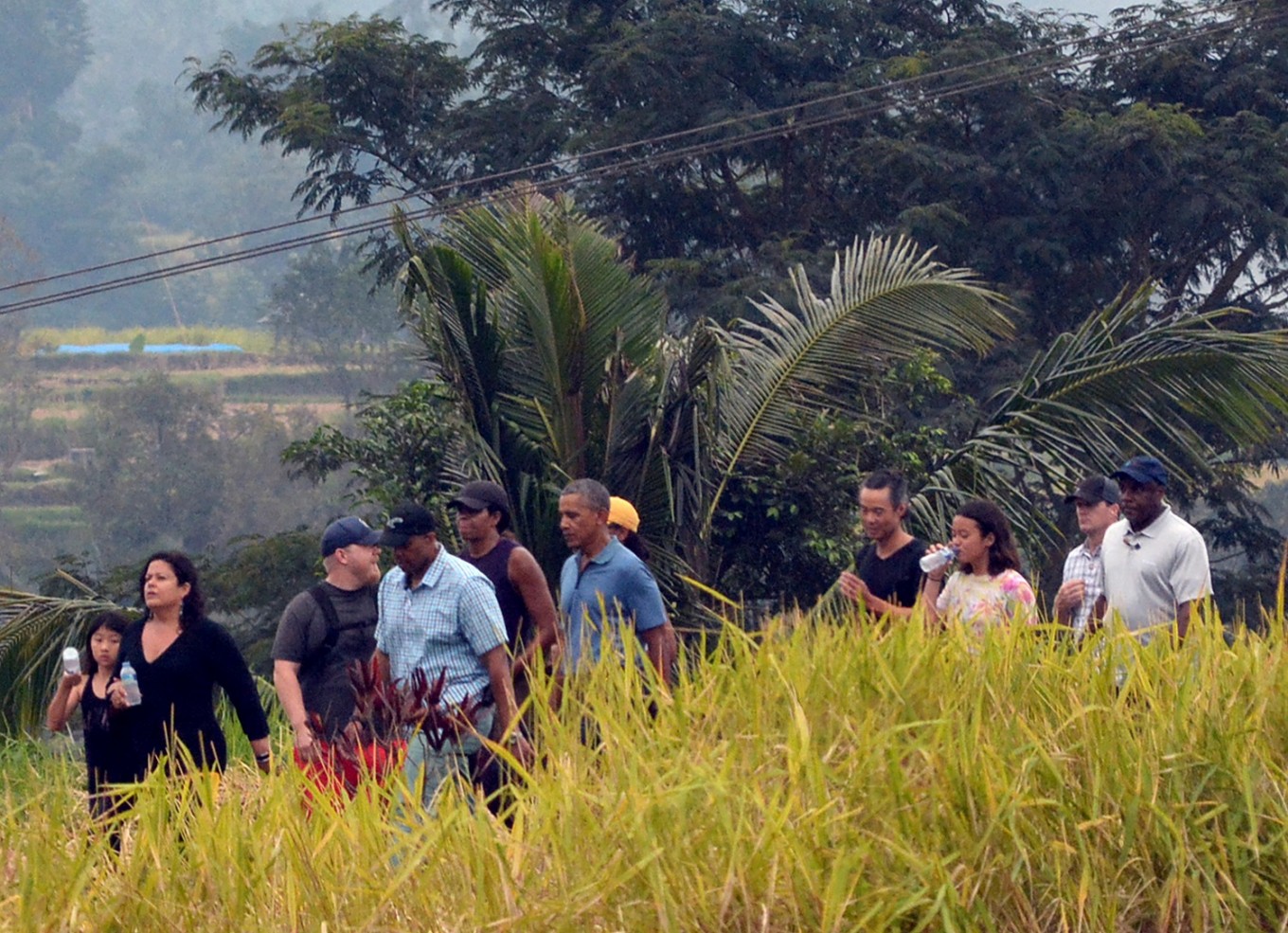 Tourism minister Arief Yahya says Obama's visits will bring up the tourist attractions' name into the world's attention: "Obama has 90 million followers on Twitter. Just one tweet from the president will immediately affect his followers. This will be good for the Indonesian tourism. Thank you so much, Mr. Obama," he declared.
The Minister hoped that some local tour operators will look at creating a "Barack Obama Bali circuit" following the former US President visit.
Indonesia ministry of tourism anticipated Obama's visit by doing advertising in one of the most prominent places in the world, New York's Time Square. "This is the perfect timing to promote Bali in the United States and the rest of the world, and it is why I allocated a promotional budget in Times Square to welcome Barack Obama. We've been pushing it since it was announced that he has plans to visit Bali, Yogyakarta and Jakarta," he added.
In Yogyakarta, Barack Obama visited both Borobudur and Prambanan temples as well as Puncak Becici (Becici Peak), a preserved Pine forested area with beautiful views over Central Java landscapes. Becici Peak pines used to provide work for locals as pine sap tappers. The forest became a tourist attraction in 2015, with local residents now managing the 4.4-hectare forest for tourism purposes. Barack Obama visit is likely to boost interest for the area.
Praising Indonesia tolerance and pluralism
The former President was privately welcomed by Indonesia President Joko Widodo ('Jokowi') at Bogor Presidential Palace inside the compounds of the historical botanical garden before to head for Jakarta, where the young Obama spent part of his childhood.
Although on a private family holiday, Barack Obama delivered a public speech at the 4th Indonesian Diaspora Congress in Jakarta on Saturday in front of 9,000 people from 55 countries, highlighting the issue of tolerance in the world's largest archipelago.
"I saw Borobudur Temple, a Buddhist temple in a [predominantly] Muslim country, Prambanan Temple, a Hindu temple that is being preserved in a [predominantly] Muslim country, as well as a traditional shadow puppet play and the Ramayana story. Tolerance should be the spirit of Indonesia, and it is also reflected in church and mosque buildings that are located right next to each other," said Obama as reported by the Jakarta Post.
" [The Indonesian slogan], 'Unity in Diversity' values have to be cultivated and nurtured. Young people have to embrace them. We have to fight for those values against those who promote intolerance. And that is an important part of Indonesia's future," Obama told the audience.
"If people do not show respect and tolerance, eventually you have war and conflict […] because not everybody will agree on how to practice a religion," Obama said, adding that humanity would not go far if people could not respect each other's differences. The speech takes a particular echo as Indonesia is confronted by rising intolerance with many voices rejecting the country's century-long pluralism.
Unity in Diversity slogan is in the Indonesian constitution under 'Bhinneka Tunggal Ika'.