Borneo Orang Utans Could Have the Same Fate than Mauritius Dodos as some 2,500 apes are killed each year on Southeast Asia largest island.
Do you remember the mythical Dodo, a large bird endemic to Mauritius ? The flightless bird -similar in size to a small ostrich- was among the first victims of the human race and became instinct in the middle of the 17th century according to scientists. The animal became popular in litterature following its presence in the novel Alice's Adventures in Wonderland by Lewis Carroll.
Unfortunately a similar fate could now target the orang utans, a symbol of Borneo rainforests' animal diversity.
An alarming study just published in Scientific Reports the decline of orang utans on Borneo territories continues unabated at a worrying rate. The study, which is the first analysis of long-term population trends for orang utans, researchers combined data from land and aerial surveys, along with interviews conducted with local communities to model how their range and population has changed over time.
Although the study indicates that some orang utans fared better in some areas than others, the general population of Borneo orang utans has dropped by 25% in just a decade.
According to the study's authors, an estimated 2,500 orang utans are killed in Borneo every year, while an estimated 10,000 are now living in areas that are earmarked for palm oil production. Survival rates of the species are lowest in areas with intermediate rainfall, where complex interrelations between soil fertility, agricultural productivity, and human settlement patterns influence persistence.
Scientific Reports indicated that the apes face a number of threats that range from being hunted for bush meat and having infants stolen to sell on markets to losing their forest homes as large areas are turned into palm oil and rubber plantations, agriculture, development, logging, mining and fires. This decline in habitat has led to starvation and has increased the risk of attacks with humans as they move closer to us in search of food.
"If these areas are converted to oil palm plantations without changes in current practices, most of these 10,000 individuals will be destroyed and the steep population decline is likely to continue," explained co-author Erik Meijaard of the University of Queensland.
Scientifi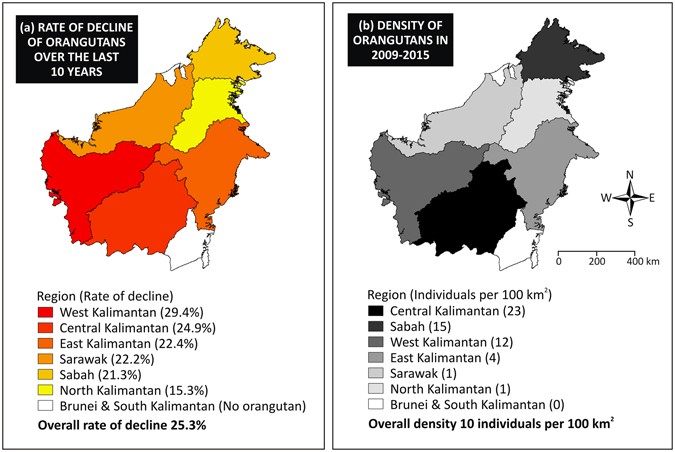 c Reports' study estimated that Central Kalimantan in Indonesia had the highest density of orang utans during 1997–2015, followed by Sabah, West Kalimantan, East Kalimantan, Sarawak, and North Kalimantan.
Although millions of dollars are spent in the region to combat wildlife decline, the study's authors say it hasn't been effectively spent and plea both Indonesian and Malaysian to find new ways to protect the disappearing species.
The authors hope that the release of their study will lead to changes in conservation strategies.
Among NGOs protecting orang utans, the International Animal Rescue's (IAR) has launched a program to protect some 100 apes in its rescue centre in West Borneo. IAR is currently raising funds to buy 64 acres of forest adjacent to its rescue center, which will help increase its animals' sanctuary by 20% and protect rain forest of being turned into palm oil plantations.
They are a dozen of rehabilitation centres and sanctuaries on Borneo Island where travellers can observe orang utan.
Sabah, Malaysia
Danum Valley Conservation Area
Kinabatangan Wild Reserve
Maliau Conservation Area
Rainforest Discovery Centre
Rasa Ria Conservation Area
Sepilok Orang Utan Rehabilitation Centre is the largest in the world
Sarawak, Malaysia
Batang Ai National Park, an example of Iban community-led conservation
Matang Wildlife Centre in Kubah National Park
Semenggoh Orang Utan Centre
Central Kalimantan, Indonesia
Lamandau River Wildlife Centre, one of the highest density of orang utan (700 animals on record)
Tanjung Puting National Park
West Kalimantan, Indonesia
Ketapang Orangutan Rehabilitation Centre