A massive fire destroyed on Thursday evening one of Yangon most famous hotels, the Kandawyi Palace Hotel. The property was well known from travellers and has been for a long time the only five-star property available for Westerners with the Strand Hotel. The hotel stood next to Kandawgyi Lake north of Yangon centre.
The property was part of Yangon history. It was built on the location of the first British Rangoon Rowing Club which opened its doors around 1935.  The place had many functions becoming even for a while the national Biology Museum before being turned into a hotel in 1979 when it was transferred to the Ministry of Hotels and Tourism. aIt was expanded in the early 1990s in partnershop with Thailand Baiyoke Group of Hotels.The property was famous as it had been built entirely in teak wood, which explained why it burned down easily.
Over 500 firefighters and 60 fire trucks from Yangon and nearby states and regions tried but failed to save the sprawling stone and golden teak old world hotel from the fire inferno.
The fire engulfed the luxury hotel, killing at least two people. Two bodies have been found at the site so far with one being identified as a Japanese and a Thai tourists, according to police sources.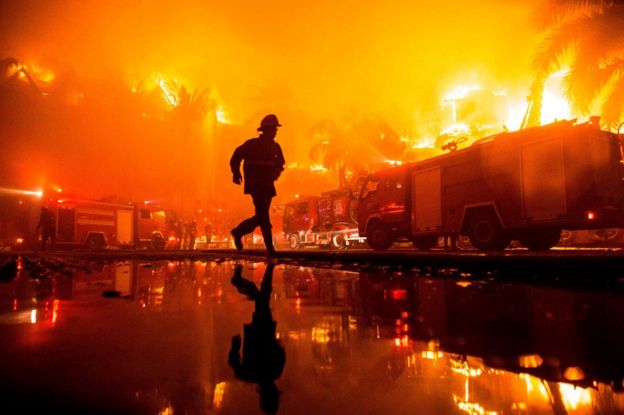 The fire started on the fifth floor of the lakeside hotel at around 3:30 a.m. and engulfed most of the building before being put out several hours later. At the time of the fire, 141 people, most of them foreigners, were staying at the hotel, and most of the surviving guests were being transferred to other hotels while some immediately left the country, according to Htay Lwin, spokesperson of the Htoo Group of Companies, which operates the hotel since 2010.
The Htoo Group was founded by controversial Burmese tycoon Tay Za, who is closely linked to Myanmar's former military regime.
"The embers floating through the sky looked like hellish snowflakes," American David Powers told The Associated Press after escaping the blaze with his family.
Police said the cause of the fire that destroyed most of the hotel is still under investigation. Local media reports quoting firefighters and hotel staff said the fire may have been caused by an electrical fault.
An official update from the ministry of home affairs late Thursday said that 91 of the 185 guest rooms in the colonial-era, Burmese-style hotel on the edge of Kandawgyi Lake were totally destroyed by the fire.
(Source: Kyodo)