Senai Airport with over three million passengers a year is far of offering optimal quality for travellers. Airport's management talks about ongoing modernisation. But this did not get unnoticed by the Prime Minister (Mentri Besar) of Johor State, Osman Datuk Sapian, who wants to monitor the quality of the facilities…
The Johor state government will set up a committee to monitor and improve quality of services at the Senai International Airport in line with efforts to improve the tourism sector in the state, said Mentri Besar Datuk Osman Sapian.
He said improving services at the airport was vital as it would create a positive impression for travellers, including domestic and foreign visitors arriving into Johor.
"Johor is one of the top destinations for domestic and foreign tourists in recent years and the airport is a gateway for those coming from other parts of the country and cities in the region," he said to Malaysian reporters during a visit to Kulai District office, where the airport is located.
Senai Airport is far of being a first-class facility for travellers with its old-fashioned look. The Senai Airport Terminal Services Sdn Bhd (SATSSB) was appointed in 2003 as the new authority for the airport, taking over from Malaysia Airports Berhad, the country's monopolistic operator.
According to SATSSB Assistant Corporate Communication Manager, Nurul Ain Ibrahim, the company invested RM600 million (US$150million) to upgrade and expand facilities in the last 14 years.
It is true that traffic has been skyrocketing since 2003. Back then, the airport welcomed only 800,000 passengers a year with Malaysia Airlines being the only operator flying to three domestic destinations.
Since 2013, passengers traffic almost tripled: 1.3 million passengers were recorded in 2013 to reach last year 3.1 million, including 500,000 international travellers. Senai is likely to pass this year the 3.5 million passengers' mark. The airport is currently connected to 11 domestic destinations and seven international destinations by six airlines (AirAsia, Thai AirAsia, Firefly, Jin Air, Malaysia Airlines and Malindo).
SATSSB expanded the terminal from 1 to 3.5 million passengers, recently adding 500 sqm in the departure lounge with new retail and seating. Runway was also extended to 3,800 m, while a new cargo terminal as well as a shopping mall across the air terminal were developed.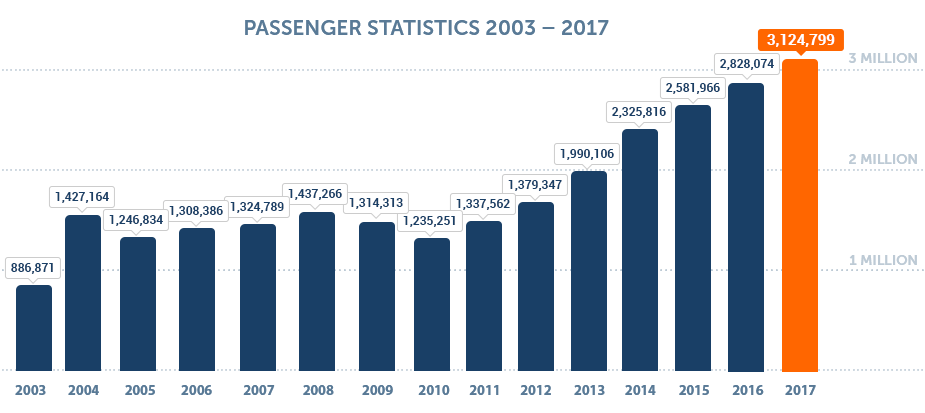 In 2017, the airport added new check-in counters from 16 to 24 units, new x-ray machines and two additional immigration counters. In parallel, international and domestic departure gates were segregated from each other.
While this sounds impressive, the problem of the airport is more into the lack of quality towards users. Immigration for example is now located just at the arrival of flights out of the gate. Counters are located in a corridor which is also providing to the gates of departing aircraft.
As soon as an international flight arrives, the area is crowded with passengers queuing where ever they can as immigration counters have no queuing lane…
Once luggage are collected, passengers must pass them in x ray. One screening machine only is available for an average of over 100 to 150 passengers per flight. Best, x-ray machines are located at body level… Not an easy task for passengers with heavy bags!
While the airport management claims to have improved directional signage, platforms at the bus terminal do not indicate where bus are heading to. According to Customers Officer of Causeway Link, the bus company linking Senai Airport to Johor Bahru city, "the issue has been brought up to the management of Senai Airport on many occasions. However, they have always taken the stand that their public facilities including signages are adequate. We will meet Senai Airport management, bring our proposals and appeal to them."
The airport is now reaching again its limit capacity. So far, they are no indication of any expansion again. The fact that Johor State PM pointed out to the need to improve service quality at Senai Airport might move things in the right direction and made management giving a bit more consideration to the well-being of its travellers!